Aluminum checker plate is widely used in decorative, shipbuilding and architectural applications. Having good forming, drilling and welding ability, Aluminum Diamond Plate and 5 bars aluminum tread plate are easy to fabricate and the pattern provides good anti-slip resistance.

Specification of aluminum checkered plate are:
Alloy:1050/1060/1070/1100/3003/3004/3105/5005/5052/5754/5083/6061
Thickness: 0.2--10.0mm
Sheet Coil Width: 500-1550mm
Temper: O/H12/H22/H14/H24/H16/H26/H18
Properties of Aluminum tread plate
Aluminum tread plate also named as aluminum tread sheet, according to the different classification of aluminum sheet alloy
1, the general pure aluminum chequered plate:
1060 1100 aluminum sheet plate from the processing of aluminum alloy pattern plate, able to adapt to the normal environment, low prices. Usually applied in cold storage, flooring, packaging and others.
2,Al-Mn alloy checker plate:
3003 aluminum as the main raw material processing, the aluminum plate, also known as rust-proof aluminum, the strength is slightly higher than the ordinary aluminum alloy tread plate, with a certain anti-rust properties, but the hardness and corrosion resistance are less than 5,000 series, so the product is not strictly used in the anti-rust, such as truck models, cold storage floor.
3, aluminum-magnesium alloy chequer plate:
5052 or 5083, such as 5000 series of aluminum as raw material processing, with good corrosion resistance, hardness, anti-rust performance. Usually used in special places, such as ships, cars lights, humid environment, the high hardness of aluminum, a certain load-bearing capacity.
Aluminum Tread Plate Patterns
In accordance with the different patterns of aluminum plate classification: f
ive bar
,
embossed sheet
,
stucco sheet
,
diamond patteren
, and so on.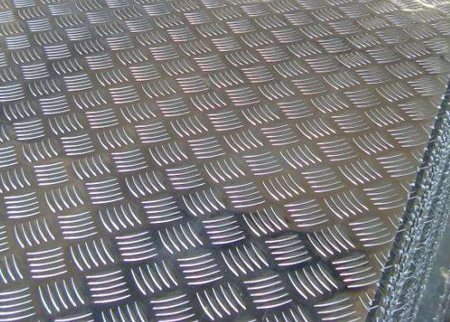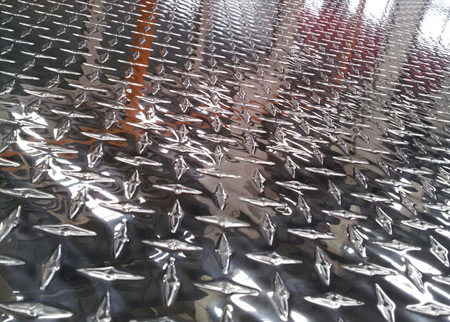 Features and Applications of Aluminum checker plate
Aluminum tread plate is a high-cost modern materials, there are many types of furniture in a wide range of uses, such as refrigerators, air conditioners, cars, platforms, packaging pipes, screen skeleton, a variety of hanging beams, table legs, handle, cable trough and cover, chair, and so on.
Packaging and Delivery of Haomei Al.
Aluminum products of Haomei Al. meet the export standard. Plastic film and brown paper can be covered at customers' need. What's more, wooden case or wooden pallet is adopted to protect products from damage during the delivery. There are two kinds of packaging, which is eye to wall or eye to sky. Customers can choose either of them for their convenience. Generally speaking, there are 2 tons in one package, and loading 18-22 tons in 1×20′ container, and 20-24 tons in 1×40′ container.